LimaCorporate's Discovery Elbow system is designed to reproduce a natural elbow anatomy and restore elbow mechanics.
It features spherical condyles on the hinge to allow for increased articular surface contact. The hinge laxity allows a proper anatomical varus/valgus movement in the elbow. The spherical condyles can be assembled in the joint from a posterior approach.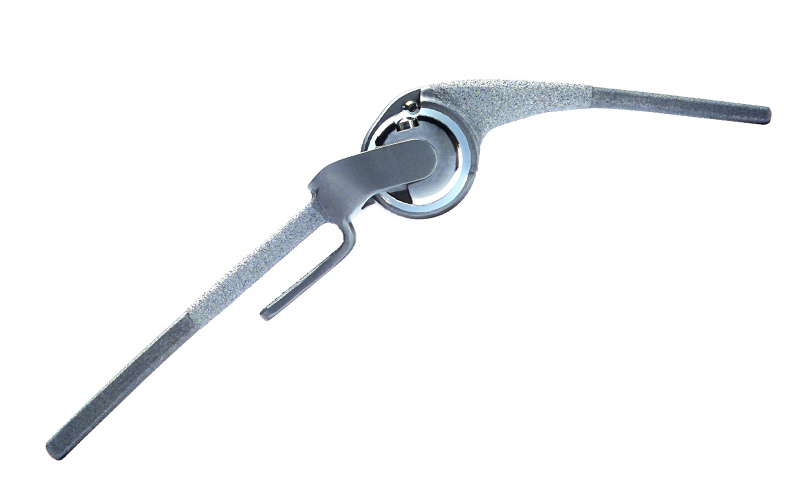 More info here.
[1] Figgie MP et al. Total Elbow Arthroplasty. Total Joint Replacement. 659–706, 1991.
[2] Won CH et al. Effect of Resin Type and Manufacturing Method on Wear of Polyethylene Tibial Components. Clinical Orthopaedics and Related Research. 376: 161–71, 2000.
[3] Currier BH et al. Effect of Fabrication Method and Resin Type on Performance of Tibial Bearings. Journal of Biomedical Materials Research. 53(2): 143–51, 2000.
[4] Alizadehkhaiyat O, Al Mandhari A, Sinopidis C, Wood A, Frostick S. Total elbow arthroplasty: a prospective clinical outcome study of Discovery Elbow System with a 4-year mean follow- up. J Shoulder Elbow Surg. 2015 Jan;24(1):52-9.
[5] Hastings H 2nd, Lee DH, Pietrzak WS. A prospective multicenter clinical study of the Discovery elbow. J Shoulder Elbow Surg. 2014 May;23(5):e95-e107.
[6] Krukhaug Y, Hallan G, Dybvik E, Lie SA, Furnes ON. A survivorship study of 838 total elbow replacements: a report from the Norwegian Arthroplasty Register 1994-2016. J Shoulder Elbow Surg. 2018 Feb;27(2):260-269.